3 Essentials for Christian Living
for Outreach and Personal Evangelism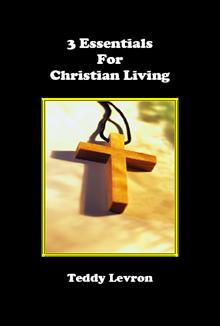 "3 Essentials For Christian Living" is
* a great starting point for new believers in the Christian faith
and
* an encouragement and challenge to those who have been following Jesus for some time.
It is a great tool and simple to use for:
*Witnessing*
*Sunday School*
*Small Group Study*
*Follow Up*
You can help us provide FREE Copies of this book to ministry organizations, prison ministries and churches by clicking on the donation button below.
Thank you for your dedication to serving the Lord. I know that this book will be a blessing to you and those with whom you share it.
Blessings,Rev. Teddy Levron
Another Exciting Development
The New 3 Essentials for Christian Living 4 Week Bible Study COURSE based on the book is NOW ONLINE!
If you are interested in obtaining physical, softcover copies of this book for outreach purposes, please send me an email by clicking here. Please include 3 Essentials in the subject line. Thank you. – Rev. Teddy Levron
Special Note: Currently, we are only able to ship physical copies of this book to the Continental United States. Sorry for the inconvenience.
"3 Essentials for Christian Living explains very simply, the most important stages of the Christian life. It is a great tool to help the new and mature Christian to complete the great commission. It is inspiring and helpful to those who are "stuck in a rut" or not seeing fruit in their lives. I highly recommend this book to pastors and fellow laborers as an introductory gift to new converts, as a tool for mature believers, and as an encouragement for those already practicing the three essentials. Personally, I have wanted to have a book like this to give to those I am discipling." – Linda Demjen, BCh.M. Co-founder and President – A Cup of Cold Water Ministries, Inc. Houston, TX
"A masterpiece! No 'Christianeze' terminology here. This book approaches Christian living with systematic, to the point, everyday language. After all, the Gospel should be made easy enough for all to understand. Teddy Levron hit the mark with this one."
Lyle Countryman, Sr Associate Pastor, Lindale Church, Houston, Texas
This book has proven to be effective as both a conversation starter, and a leave behind piece that continues to witness after you are gone.
Many have commented on the easy to understand format.