3 Essentials for Christian Living                     Four Week Bible Study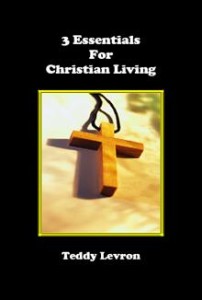 "3 Essentials For Christian Living – 4 Week Bible Study" is
* a great starting point for new believers in the Christian faith
and
* an encouragement and challenge to those who have been following Jesus for some time.
Testimonials
"3 Essentials for Christian Living explains very simply, the most important stages of the Christian life. It is a great tool to help the new and mature Christian to complete the great commission. It is inspiring and helpful to those who are "stuck in a rut" or not seeing fruit in their lives. I highly recommend this book to pastors and fellow laborers as an introductory gift to new converts, as a tool for mature believers, and as an encouragement for those already practicing the three essentials. Personally, I have wanted to have a book like this to give to those I am discipling." – Linda Demjen, BCh.M. Co-founder and President – A Cup of Cold Water Ministries, Inc. Houston, TX
"A masterpiece! No 'Christianeze' terminology here. This book approaches Christian living with systematic, to the point, everyday language. After all, the Gospel should be made easy enough for all to understand. Teddy Levron hit the mark with this one."
Lyle Countryman, Sr Associate Pastor, Lindale Church, Houston, Texas
The book has proven to be effective as both a conversation starter, and a leave behind piece that continues to witness after you are gone. Many have commented on the easy to understand format.
The Christian Essentials Bible Study
Using the 3 Essentials for Christian Living book as a launching point, this 4 week Bible study format will allow you to dig deeper and apply each of the 3 essentials to your personal life.
Lesson One
This lesson will help you get your bearings and set the tone for the remainder of the weekly studies.
You'll begin with an overview of the 3 Essentials for Christian Living by minister and author, Rev. Teddy Levron.
The overview will help you identify where you are in relationship to the 3 Essentials of Birth, Growth,  & Reproduction in your Christian journey.
Lesson Two
You'll dig deeper into the meaning of being "Born Again". The lesson helps to explain the importance of being spiritually born into the family of God.
You'll leave this lesson with a new commitment to the Lord and a better understanding of how much God loves you and wants to truly be your father.
Lesson Three
In this lesson, you'll explore the concept of Growing in your relationship with the Lord. Christianity is not a passive concept. Truly following the Lord takes effort and faith.
As you consider the questions posed in this lesson, you'll be able to identify areas in your life that need support and also see the benefits of being completely committed to God's process of growth throughout your lifetime.
Lesson Four
This final lesson will help you understand the importance and awesome privilege that God has offered us in helping others to know Him better.
In the Bible, Jesus tells us to "Go and make disciples of all nations…" That process begins at home, one on one, with people who need to know Jesus as their personal Savior.
Once you have completed the exercises in this lesson, you will have a better understanding of how God wants to use you, your life, and your testimony to help others come to a saving knowledge of Jesus Christ, just as you have!
This course presents itself as a basis and launching point for many other studies, and helping to identify God's personal calling on your life – NO MATTER WHERE YOU ARE IN YOUR SPIRITUAL JOURNEY WITH THE LORD.
To Gain Access to the Course, please Login to your Members Account or Register for a Free Members Account now..
Course Materials
Course Materials include: 3 Essentials for Christian Living eBook, Download PDF Worksheets for each lesson, Online Video Teaching Module for each lesson